The Voice You Can Believe,
for Results You Can Count On
Beginning with radio commercials in 1963, Emmet Robinson's distinctive baritone has been featured in a wide variety of applications for clients nationwide.
His distinctive approach to narration is based on the personal philosophy that simply reciting the words isn't enough – the words must have meaning.
To that end, he carefully rehearses each script, then speaks as though talking directly to someone in the studio with him.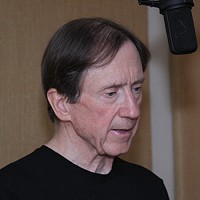 To do otherwise would produce ineffective narrative that fails to fully engage the listeners/viewers and hold their attention in delivering your message – resulting in a poor return on your advertising or training dollar.
With Emmet Robinson's voiceovers, you receive an unusual combination of benefits to help you achieve better results for yourself, your clients – and your company.
The technical capabilities of a fully equipped audio production studio give you maximum production flexibility so that additions, revisions and corrections are easy and economical.

A pre-session professional script review eliminates the inevitable minor glitches prior to the recording session.

Consulting with the client ensures correct pronunciation of names and technical terminology for maximum credibility.

Recorded narrative that's natural, conversational and completely convincing will keep the listeners attentive and engaged, resulting in greater retention and implementation of the material presented.
Credits
Emmet Robinson has been privileged to lend his voice to educational and promotional audio for companies such as :
Acella Pharmaceuticals • Altek Aluminum • American Red Cross • Ametek • Astra Zeneca • ARCO Chemical • AT & T • Bellevue Stratford Hotel • Biogen • Bennigan's Restaurants • Beringer Ingelheim • Bryn Mawr Trust Company • Cephalon • Chemical Leaman Tank Lines • Chester County Hospital Conrail • Dendreon • Dodge Trucks • DuPont • General Electric • Glatt • Gulf Oil • Hartford Hospital • Holiday Inn • Impax Pharmaceuticals • Janssen Pharmaceutica • Latrobe Brewing Corporation • Lauderhill Mall • Manesty Medimmune • Merck • Mita Copiers • Mutual of New York Life • Netzsch Corp. • Newcomen Society • Otis Elevator Occidental Chemical • PECO Energy • Pennsylvania Lumbermen's Insurance • Philadelphia Firemen's Museum • Pfizer • Provident Mutual Life • Quanta Energized Services • Reldan Metals • Sanofi-Pasteur • St. Joseph's University • Sears • Silicon Power Corp. • Sun Chemical • SCA Hygiene Products • West Chester YMCA • Wilmington Savings Fund Society and many others.
Client Comments
"You have a great voice…so deep and resonant, with wonderful expression, and it's terrific to work with a real professional. Thank you!"

"Your narration on my Handel project was superb, the feeling was wonderful, and I couldn't have asked for any thing nicer or better."

"Emmet, the scratch track is a hit!"

"This is perfect! Thanks so much for working all hours of the night and getting it over to me."

"Your narration takes my programs to the next level."

"I always use your suggestions when you send alternate suggestions to the script."

"There were several times over the course of this project when as I added your sound files and tested the program, that I actually said out loud 'Emmet…you rule.'"

"As usual, your experience was evident."

"Thanks so much for your outstanding help with an extremely challenging project."

"Thanks for the quick turnaround, Emmet. Eric said it sounds great."
Fees
Per minute of completed audio, delivered via email $10.95
Example: 15-minute program $164.25
Or: Flat rate per project

Included:
• Script review and rehearsal
• Professional narration
• Accurate digital recording
• Precise editing
• Conversion of files to preferred file format
• Delivery via email
• Production (computer) files retained for one year
• Disk of completed files retained on file for ten years

Terms
Cash or Check

For details:
610-647-4341
email: emmetsemail@aol.com
| | | |
| --- | --- | --- |
| 610-647-4341 | ©2016 Emmet Robinson | |